Unbanked Inc. recently launched a crowdfunding campaign after taking 1st Place in the Shark Pitch competition judged by celebrity investor Kevin O'Leary
NEW YORK - January 17, 2023 - (
Newswire.com
)
Today it was announced that Unbanked Inc., a fintech company that connects traditional banking products with blockchain and digital assets, has taken first place in the Shark Pitch competition and launched a crowdfunding campaign offering a limited quantity of shares. The launch of this Reg-CF campaign will enable investors to participate in Unbanked's capital raise and purchase an ownership stake in the company. 
Unbanked was invited to participate in the Shark Pitch with celebrity investor Kevin O'Leary judging the competition. After beating out other startups, Unbanked took 1st place in the competition and was awarded a $25,000 cash prize. Kevin O'Leary stated, "I'm gonna go with Ian & Daniel at Unbanked because they have proven their model in a really interesting place and they have significant revenues, but they are not the only great team of entrepreneurs in this contest. If I had to put two million bucks to work I'd probably put it in there right now."
Investors looking to participate in Unbanked's equity offering can do so here. This crowdfunding campaign follows other oversubscribed capital raises Unbanked has hosted on Republic with more than 5,000 individual investors participating. The minimum investment in Unbanked is $250, and there is a limited quantity of shares offered via a SAFE at a 20% discount. The intent is to make Unbanked Inc.'s next investment round a priced round facilitated by a lead institutional investor.
Unbanked Inc. provides B2B crypto infrastructure for many popular cryptocurrency-powered consumer debit cards. Clients of Unbanked include Litecoin Foundation, StormX, Nexo, Stacks, & more who use the Unbanked platform to offer their own branded white-label debit cards and bank accounts for consumers. This suite of highly bespoke financial products act as an easy gateway from dollars to cryptocurrencies and vice versa - creating a financial experience unique to the holder.
"Being invited to participate in the Shark Pitch competition was an amazing experience," said Ian Kane, Co-CEO and Co-Founder of Unbanked. "Kevin is an exceptionally knowledgeable investor, and having his vote of confidence meant a lot because he knows the nuances of our industry. I'm excited to launch this capital raise and fuel Unbanked's continued growth." 
 
About Unbanked
Unbanked is a global fintech solution built on blockchain. Predicated on the ethos that financial access and control is a fundamental human right, Unbanked connects traditional enterprise, fintech, and banking systems with blockchain infrastructure, expanding the utility of cryptocurrency for investing and everyday purchases. The company has a suite of highly bespoke financial products which enable both the banked, unbanked, and underbanked to create a financial experience as unique as the life they live.
You can learn more at Unbanked.com
Contact Information:
Ian Kane
CEO
[email protected]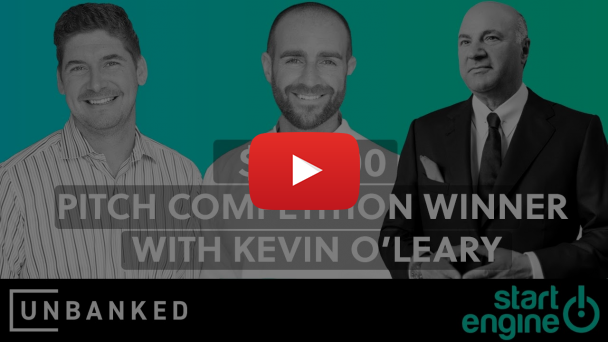 Press Release Service by
Newswire.com
Original Source:
Unbanked Inc. Takes 1st Place in Shark Pitch Competition & Launches Crowdfunding Campaign