ShowBiz
Source: Giorgio Zucchiatti/La Biennale di Venezia / Ross Belot...
ShowBiz
Source: MBC StudiosChristina Wayne MBC Studios, the production arm of...
Business
MIAMI, FL, USA, November 17,...
Source: Jay Patel courtesy of Western Norway Film CommissionTrolltunga, Norway All 19 of the Nordic Film Commissions have signed a new, wide-ranging sustainability pledge. Some of...
The Enclave Event Center to Feature Furnishings From CITY Furniture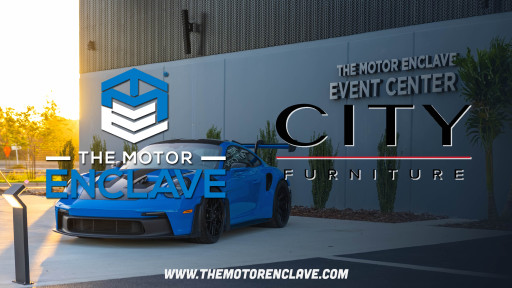 The Motor Enclave & CITY Furniture Partnership
The Motor Enclave logo and CITY Furniture logo over a photo of The Motor Enclave Event Center in Tampa, Florida
TAMPA, Fla., December 4, 2023 (Newswire.com) - The Motor Enclave announced today that it has entered into a multi-year agreement with CITY Furniture to become the "Official Furniture Partner" of the 200-acre experiential motorsports venue conveniently located at the corner of I-4 and I-75, less than 15 minutes from downtown Tampa.  
CITY Furniture will be instrumental in the curated selection of furniture and décor for the Enclave Event Center, the Enclave Beach Club resort pool, the Enclave Off-Road Hospitality Lounge and The Motor Enclave corporate offices. 
Additionally, CITY Furniture has joined The Motor Enclave Preferred Partner Program which provides Enclave Private Garage owners with access to CITY's free design professionals and VIP discounts to its full array of product offerings. 
"After learning about CITY Furniture's remarkable 1.2 million-square-foot showroom, and distribution center in the Tampa Bay market, I was genuinely impressed. The $125-million showroom features state-of-the-art LED lighting, creating a modern, energy-efficient environment. The facility even offers over 20 electric vehicle charging spaces, highlighting our shared commitment to the community. It was clear that this is a company we needed to collaborate with," said Enclave CEO Brad Oleshansky. 
"The Motor Enclave facility is incredible. Granting Private Garage owners access to CITY's exceptional team of interior designers and our beautiful furniture line is a definite win-win for both our organizations. Excited to kick things off with the entire Motor Enclave crew and show CITY's commitment to world-class service," shared Andrew Koenig, CEO of CITY Furniture.
About CITY Furniture: CITY Furniture, a South-Florida-based, family-owned American furniture and mattress retailer and fine upholstery manufacturer and one of America's Top 20 furniture retailers, operates over 30 showrooms from Miami through Vero Beach, and in Southwest and Central Florida, as well as 14 Ashley Home Store showrooms as the brand's Southeast and Southwest Florida licensee. For more information, please visit http://www.cityfurniture.com.
About The Motor Enclave: The Motor Enclave is the premier developer of experiential motorsports venues in North America. Our 200-acre development in Tampa, Florida, includes a 1.6-mile Hermann Tilke-designed driving circuit, two-acre vehicle dynamics pad, 100-acre off-road experience with miles of purpose-built trails, 37,000-square-foot corporate event center, and the largest Private Garage community in the world with more than 300 privately owned luxury garages. Every adrenaline-filled detail has been designed and engineered around delivering memorable experiences to our owners/members, corporate clients, and the general public. Complete details can be found at www.themotorenclave.com.
Contact Information:
Brad Oleshansky
CEO
[email protected]
Chas Ostezan
CRO
[email protected]
248-878-3651
Hank Johnson
Marketing Manager
[email protected]
8649181802
Original Source:
CITY Furniture Named 'Official Furniture Partner' of The Motor Enclave Tampa
ShowBiz
Becomes Only TV Network to Pick Up Daily Program
BISMARCK, N.D., November 30, 2023 (Newswire.com) - BEK TV, the leading television network in North Dakota, is excited to announce the addition of "The Ramsey Show," featuring personal finance expert Dave Ramsey, to its weekday lineup. The premiere episode will be Monday, December 4, at 7 am. For more information on how to watch, visit https://bekbuzz.com/post/bek-tv-only-network-to-pick-up-the-ramsey-show-in-its-daily-lineup.
"The Ramsey Show" has gained popularity as one of the most listened-to radio shows in the country, and BEK TV is proud to be the first television network to air the show daily. Ramsey, along with his team of co-hosts, offers financial advice and guidance to viewers and callers, helping them get out of debt, regain control of their lives, and create solid financial plans for their futures.
Ramsey's journey as a radio broadcaster began more than three decades ago. Since then, he has been sharing practical solutions to life's most challenging money questions. Today, "The Ramsey Show" brings in more than 18 million listeners across the nation. Ramsey has authored seven bestselling books and has impacted the lives of individuals through Ramsey Solutions' live events.
"The Ramsey Show" on BEK TV promises to bring Ramsey's advice and expertise to an even wider audience.
BEK TV is the only North Dakota-owned broadcasting company remaining in the state and produces more local content than any other television station. It broadcasts statewide on television and across the world via internet. BEK TV consists of content from both BEK Sports and BEK News.
BEK TV is the largest television broadcaster of high school and collegiate athletics in the region, broadcasting nearly 400 live events each year. The network also is the state's top producer of original news and opinion programming. BEK TV is the 2021, 2022, and 2023 winner of the Bismarck Tribune's Best of the Best contest, selected by the public for "Best Television Station".
The concept behind BEK's news programming is to provide a media service platform that is unscripted and uncensored. BEK TV hosts are untrained broadcasters who share their perspectives and views on topics and issues that North Dakotans are talking about. The BEK network never controls the messaging. For more information, log onto bek.tv and bek.news.
 
Contact Information:
Julie Skaret
BEK Media Relations
[email protected]
701-475-1318
Original Source:
BEK TV Welcomes 'The Ramsey Show' to Weekday Lineup