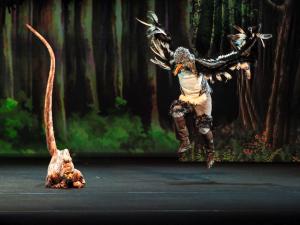 The performance becomes particularly captivating with the intricate snake movements, as they crawl, twirl in the air, flick their tails, and engage in battles with the bird.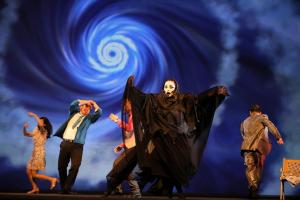 "Mankind has opened the gates of hell!" – António Guterres, United Nations Secretary-General
Be Inspired by Tai Ji Men's Epic Masterpiece "Back To The Origin"
Despite the pandemic, your academy has continued to thrive, serving as a vital pillar to our community by reaffirming the spirit of universal brotherhood etiquette and conscience."
— Josh Newman, CA State Senate
CALIFORNIA, UNITED STATES, October 1, 2023 /EINPresswire.com/ — In light of the world that's filled with natural and man-made disasters, the United Nations Secretary-General António Guterres declared, "…mankind has opened the gates of hell." How will world citizens maintain a peaceful mind and empower each other to follow their conscience in taking actions? The answer may lie in the upcoming performances in venues of NorCal and SoCal. Presented by the Tai Ji Men Goodwill Cultural Group, the performances will showcase "Back to the Origin" and "Cultural Gems: Love and Prayers for the World" through traditional martial arts, music, dance, drama, and a story within a story. To demonstrate charity and inclusiveness, the shows will be offered free to all. Sneak previews of Tai Ji Men's cultural performances can be found at https://www.youtube.com/watch?v=_ziWOHWxfa4
Performances in Santa Clara

★ October 6 (Friday)

Theme: Back to the Origin

Time: 7 – 9 p.m.

★October 7th (Saturday)

Theme: Cultural Gems: Love and Prayers for the World

Time: 2-5 p.m. and 7-10 p.m.

Venue: San Jose Center for the Performing Arts

Address: 255 S Almaden Blvd, San Jose, CA 95113

Free tickets can be reserved at https://www.taijimen.org/events/sj-opening
Performances in Pasadena

★October 15th (Sunday)

Theme: Back to the Origin

Time: 2 – 4 p.m.

Theme: Cultural Gems: Love and Prayers for the World

Time: 7 – 10 p.m.

Venue: Pasadena Civic Auditorium

Address: 300 E Green St, Pasadena, CA 91101

Free tickets can be reserved at https://www.taijimen.org/events/la-opening
Performed with life! "Back to the Origin" transports the audience back to the universe's inception, to the realm of Tai Ji and the rhythmic changes of the seasons. It serves to illuminate the inseparable bond between humanity and nature. Furthermore, it delves into the contemporary landscape characterized by burgeoning desires, temptations, power struggles, fame-seeking, and conflicts. Confronted by the relentless forces of nature, how will people discern between good and evil? The play commences with a thought-provoking introductory video titled "Children of Heaven." The young performer portraying a snake aspires to "act out his life" to assist people in discovering their true inner selves. The performer embodying a goose soars gracefully in the sky, likening her 2-kilogram feathers to wings of love that guide the world toward a brighter future.
"Cultural Gems: Love and Prayers for the World" reveals the new life of a 6,000-year-old culture. This grand production, featuring a cast of over 600 individuals, delves into the origins of life and uncovers the ultimate answer to human development and the world's future. "Cultural Gems: Love and Prayers for the World" showcases five auspicious creatures from the East – the dragon, phoenix, peacock, lion, and unicorn – along with the Angel of Love from the West. It also includes a sword dance performed by a warrior woman that blends dance and martial arts, as well as the LED warrior who inspires heroes. These elements lead the audience on a journey through the past and present, encouraging cultural innovation to create a conscientious era together. Utilizing modern technology, special effects, animation, sound, and lighting, the program not only displays the beauty of art and culture but also imparts the spirit and values of ancient traditions spanning 6,000 years. It is an event not to be missed!
About Tai Ji Men

Tai Ji Men, renowned as "International Ambassadors of Peace and Goodwill," with a brilliant record of visiting over a hundred countries across six continents and participating in more than 3,000 cultural performances, is set to ignite a modern martial arts storm in California, USA, this October. Tai Ji Men is an international non-profit cultural organization with a mission to preserve the heritage of Tai Ji Men culture and enhance the physical and mental well-being of individuals worldwide. In the year 2000, Dr. Hong, Tao-Tze, the leader of Tai Ji Men, established two Tai Ji Men Academies in California. This October, we are thrilled to announce the grand opening of new academies in Santa Clara and Pasadena. Additionally, two new Academies will also be inaugurated in these locations during the same month.
Dr. Hong has devoted his life to guiding Tai Ji Men disciples and members of the Federation of World Peace and Love (FOWPAL) to form delegations across all six continents. Their goal has been to promote a culture of peace founded on love and conscience, and they have undertaken these missions with their own resources and efforts. Dr. Hong played a pivotal role in the establishment of the United Nations' International Day of Conscience. Moreover, in recognition of the 1.2 million hours of dedication contributed by Dr. Hong and the members of FOWPAL to the United States, U.S. President Joe Biden bestowed upon him the Presidential Lifetime Achievement Award in March of this year.
Tai Ji Men is committed to spreading the values of peace, love, and conscience, and we look forward to continuing our mission for the betterment of humanity.
Contacts of Tai Ji Men Qigong Academy

Amy Chen (408)636-6131

Phyllis Huang (408)888-0377

Lily Chen (626)202-5268

[email protected]

[email protected]
CHIEN-HSI HSIUNG
Tai Ji Men Qigong Academy
[email protected]
Visit us on social media:
YouTube
Other
Transcending Time and Space: Back to the Origin
Article originally published on www.einpresswire.com as Tai Ji Men's Masterpiece of the Sydney Opera House Reappears in California