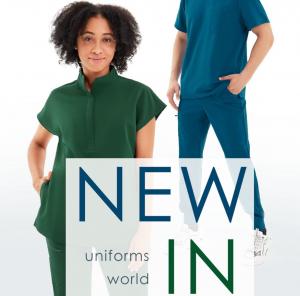 Collection image of Uniforms World New In Scrubs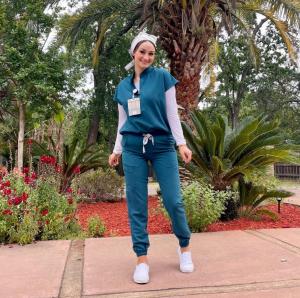 Image of happy customer wearing Uniforms World scrubs
Uniforms World Store has quickly gained popularity similar to brands like FIGS, and Cherokee, with their line of medical scrubs for healthcare professionals.
Our philosophy at Uniforms World is, A Set Is Better! We do not believe that you should pay the highest prices for the fundamental need of medical scrubs. That is where UW steps in to bridge the gap."
— Bashir, Co-Founder
HARRISBURG, PENNSYLVANIA, UNITED STATES, October 1, 2023 /EINPresswire.com/ — In a world where the cost of living continues to rise, it's essential to find ways to balance quality and affordability in our everyday expenses. For those in the medical field, this struggle is all too familiar, particularly when it comes to purchasing the essential garments of the trade – medical scrubs.
Uniforms World Store specializes in medical scrubs and their new collection, called the 309TS series, uses a 94% polyester, and 6% spandex blend that has been designed to offer medical students both comfort and durability. Uniforms World Store's new fabric blend is anti-bacterial, anti-absorbent, anti-wrinkle and anti-static, and therefore they believe it is well-suited to the often harsh conditions and long hours that medical and nursing students work through.
For more details, visit https://uworld.store/collections/309ts-series
Uniforms World Store has quickly gained popularity similar to the likes of well-known scrubs brands like FIGS, and Cherokee Uniforms, with their own new line of medical scrubs for healthcare professionals and students, which they believe offers their shoppers the same high level of comfort, durability and stylishness, but combines this with a more affordable student-friendly price tag.
Uniforms World Store is retailing their 309TS series as scrub sets rather than singles, a pricing system they believe ensures greater affordability for shoppers.
Two featured sets in their new collection, The Louis 309TS Men's Core Scrub Set and The Valiant 309TS Women's Core Scrub Set, both include a functional and stylish v-neck top and soft elastic waist and ankle slim-fit joggers. The set has a total of eight functional hidden pockets.
More information on the new 309TS series can be found here: Shop 309TS Series
Uniforms World Store knows it is essential for medical and nursing students to feel comfortable during a long shift and they believe their practical, lightweight and breathable new fabric blend will offer this to students in all medical contexts.
As a retailer committed to comfort, function and style, Uniforms World Store has also released their 309TS series in a selection of new colors they hope will help medical students to both feel and look good all shift long, including Burgundy, Caribbean Blue, Dark Gray, Navy Blue, Black, Dark Purple, Royal Blue, Tea Leaf, a beautiful Olive Green color, and many more.
Here is what the founders of Uniforms World Store, said about their collection, "Our new The Louis and The Valiant 309TS 8-pocket jogger scrub sets marry feel, fashion and functionality. Our medical scrubs work hard for you without working your wallet. Giving you 100% on the job and never relenting."
For those healthcare professionals and students, who've been daydreaming about the glamorous high-end scrubs like FIGS, Uniforms World Store is proud to bring those customers both fashion and function on a budget.
Interested readers can find out more at https://uworld.store.
Uniforms World Store
Uniforms World Store
[email protected]
Article originally published on www.einpresswire.com as Soft High Quality Slim Fit Jogger Style Medical Scrubs Like FIGS and Cherokee Launched By Uniforms World