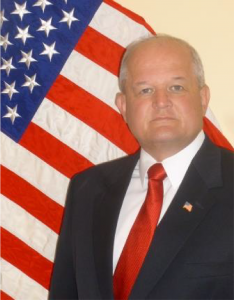 Brigadier General (ret) Dick Miller, President, NVBDC
NVBDC congratulates, Keith King on winning the 2023 Diversity Award by Corp! Magazine.
I have long admired Keith King's visionary support and action for veterans, a commitment that resonates deeply within our community."
— Brigadier General (ret) Dick Miller, President, NVBDC
DETROIT, MI, UNITED STATES, October 25, 2023 /EINPresswire.com/ — National Veteran Business Development Council (NVBDC) proudly announces that its Founder and CEO, Keith King, has been bestowed with the prestigious 2023 Diversity Award by Corp! Magazine. This recognition stands as a testament to Keith King's visionary leadership and tireless commitment to advancing the inclusion of veteran-owned businesses in the supplier diversity marketplace.
Keith King's remarkable contributions to the cause of promoting diversity and inclusivity within the business world have not gone unnoticed. The 2023 Corp! Magazine Diversity Award is a reflection of his dedication to creating opportunities for veteran-owned businesses and fostering inclusive supply chains. His unwavering commitment has made a significant impact, not only within NVBDC but also across the broader business community.
Under Keith King's leadership, NVBDC has continuously championed the cause of veteran-owned businesses, providing them with the support and resources they need to thrive. Through various initiatives and partnerships, NVBDC has played a pivotal role in enhancing opportunities for veterans in the business world by opening a $122 Billion Supplier Diversity Marketplace, ensuring that their valuable contributions are recognized and valued.
Keith King's work has not only strengthened the veteran business community but has also set a remarkable example for organizations and individuals alike. His leadership inspires others to embrace diversity, support veteran-owned businesses, and create more inclusive environments within the corporate landscape.
NVBDC congratulates Keith King on this remarkable achievement and we invite you all to send your congratulations to him as well. NVBDC looks forward to continuing its mission under his visionary leadership.
If you are a Veteran Business Owner, we invite you to register for the 2023 National Veteran Matchmaking Conference and our legendary networking event: "Vets Night Out".
Don't miss this opportunity to propel your veteran-owned business to new heights by connecting with Corporations and Federal /State agencies eager to meet veteran suppliers. More information as well as hotel information can be found at: nvbdc.org/events
About National Veteran Business Development Council (NVBDC):
NVBDC is the original veteran-owned business certification organization developed by veterans for veterans. We are the only accepted Veteran Business Certification body by the members of the Billion Dollar Roundtable who have spent over $4.3 Billion with NVBDC Certified Veteran Owned Businesses in 2023.
For more information on how to become an NVBDC Certified SD/VOB. Please visit our website: www.nvbdc.org or contact us directly: (888) CERTIFIED.
NVBDC MISSION:

NVBDC is the only Veteran Owned Business Certification organization developed by Veterans, for Veterans. The purpose is to provide a credible and reliable certifying authority for all-size businesses ensuring that valid documentation exists of Veteran ownership and control.
Additional information about NVBDC can be found at www.nvbdc.org
https://nvbdc.org/nvbdc-news/nvbdc-founder-and-ceo-keith-king-honored-with-the-2023-diversity-award-by-corp-magazine/
Keith King, Founder & CEO
National Veteran Business Development Council
+1 248-648-3500
email us here
Visit us on social media:
Facebook
Twitter
LinkedIn


Article originally published on www.einpresswire.com as NVBDC Founder and CEO, Keith King, honored with the 2023 Diversity Award by Corp! Magazine