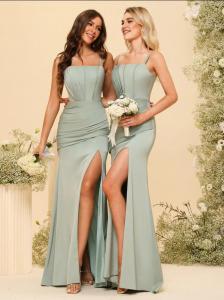 Sheath/Column Spaghetti Straps Long Formal Dresses With Split Side & Ruched
Amidst the advent of multiple copycats, the company is committed to clear its name and gain customer trust.
NEW YORK, UNITED STATES, October 1, 2023 /EINPresswire.com/ — Lavetir is one of the fast-rising clothing stores known for its exquisite collection of bridesmaid dresses, Prom dresses, and Brides dresses. Their enviable collection and lucrative discounts have often brought customer attention, which is why the store has always been one of the most popular shopping destinations online over the last few years.
Unfortunately, in these past years, Lavetir has been badly hurt by multiple businesses that share its name and have been bringing a bad reputation to the brand. This is why they have many third-party websites calling them out for being fake or scam website despite the best intentions of Lavetir owners.
This year, an independent third party was conducted to verify the legitimacy of their business. During this independent review, Lavetir scored high marks due to its awesome ratings on credible platforms like Trustpilot, Amazon, and Pinterest. Post physical verification of their address, the company's inventory/warehouse and book records were also checked. After a thorough investigation, Lavetir has finally been declared as a legitimate business. 
This news is especially important for the supporters and customers of Lavetir, who have long trusted the brand to provide them with an exclusive collection of women's dresses for all occasions. The company's officials can now take a shy of relief and keep working towards the creation of their beautiful dresses, which have often been lauded for their strict quality control and premium standards.
About The Company 

Lavetir is a HongKong Kong-based fashion house best known for its unmatched craftsmanship and elegant dresses. Their wide range of bridesmaid dresses has helped them gain popularity amongst its consumer base all around the world. 
Marcia
Lavetir LLC
[email protected]
Visit us on social media:
Facebook
YouTube
Other
Article originally published on www.einpresswire.com as Lavetir Finally Proves The Legitimacy Of Their Website After An Independent Third-Party Review